Your Edu Journey - An app that gets teachers back to teaching.
Your Edu Journey approached us to help support teachers get back their time by documenting student learning progress in more efficient ways in and out of the classroom. They wanted a simple and quick way of recording and tracking students learning progression in real-time.
Through workshops, surveys, interviews, and in-depth desktop research we discovered that teachers across Australia are struggling to keep up with the daily expectations within their roles. Documenting students learning progression is traditionally serviced by handwritten notes, excel spreadsheets, and emails. Between face-to-face teaching, after-school paperwork, and administration, a solution was needed to help support the way teachers document learning.
Create a feeling of support giving teachers more time to teach.
For every individual student across Australia.
In order to evidence individual, group and whole class learning progression across Australia we immediately decided on simplifying everything we surfaced within the app. Some schools will be in remote and low internet areas while others will be in the inner city. As every student and teacher across the country has different criteria, we ensured we focused on the individual at home as much as the whole class. We immediately set about working to create an experience with less clutter. We decided early on to give enrollment access to school administration allowing teachers to free up more time to teach.
Simple and fun for both teachers and students.
As the brand design had to strike a chord with teachers and students, we set about experimenting with characters and generic shapes, combined with a limited colour palette. We understood that this had to be a helpful tool and not let our creativity get in the way of providing teachers with an intuitive experience. We settled on keeping it simple but had a great head start on developing characters for the students to interact with when they get their hand on the next app in the series.
Easier ways to record and consume data.
In sync with working on the brand, we started creating conceptual UI to get a feel of how the product would be represented. With only a brief brand guide we worked with the client to develop a simple design solution that would not only be easy on the eyes but assist with a broader data visulisation output. Simplicity became the direction pretty early on in the process. We needed to create a scalable design system that could load fast and support all learning progression for teachers and students now and in the future.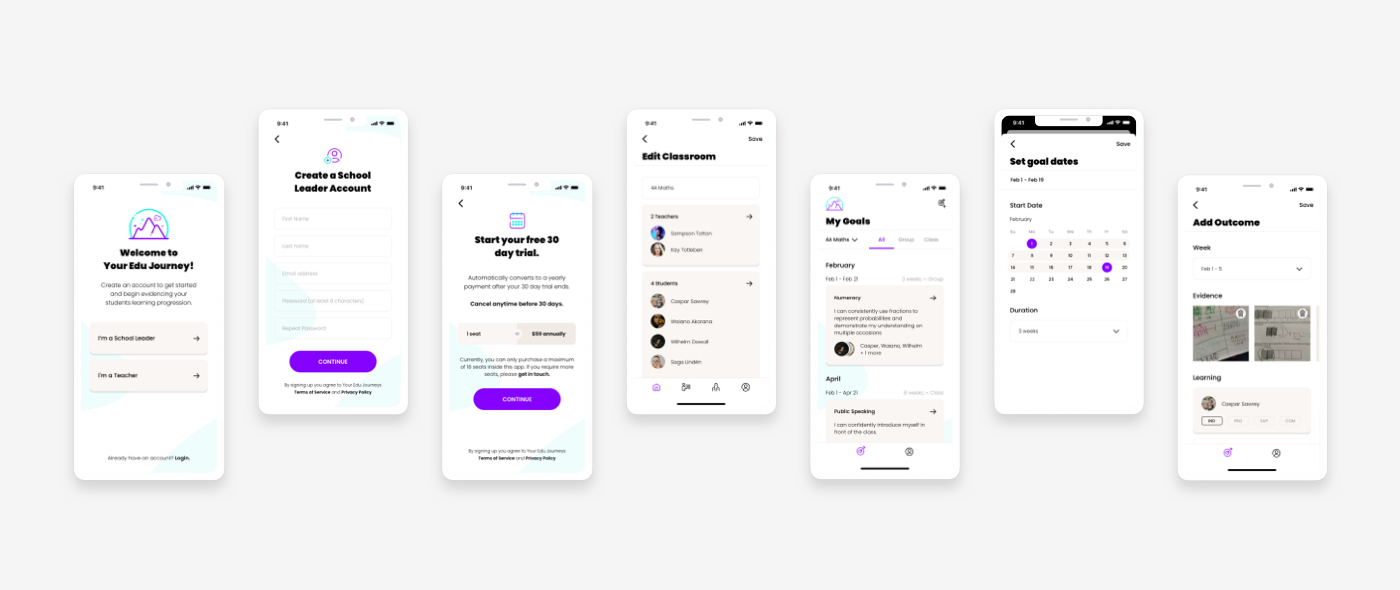 Releasing the product to schools across Australia.
We built a solid iOS app to be released into the app store at the start of the term. By allowing teachers to have 30 days free trial we could immediately test and learn whats working and what's not, allowing us to immediately gather feedback. Leveraging some off the shelf iOS functionality combined with our bespoke experience we were able to release to classrooms across the country.
User interface is like a joke.
If you have to explain it, it's not very good.
We'd love to learn more about your business, your customers and discuss ways in which we can help.